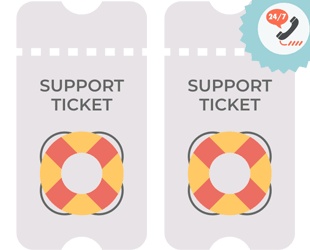 WP Support (PRO)
This plugin will integrate Support Ticket functionality for users of your site. In addition to the free version this PRO version has additional features. i) Multiple file Attachments. ii) Select which file types can be uploaded. iii) One new user Role Agent will be created. Administrator can assign this Role (Agent) to users. Agents can reply to the tickets on behalf of administrator from admin panel. This plugin now comes with a FREE Addon AP Email Template Add-on.
If you need support please Email us at [email protected]
All updates & support available for 1 year. Current Plugin (Version 2.7.7)
This plugin is tested upto WordPress (Version 6.2.2)
Shortcodes And Widgets
Use this [ticket title="Support Tickets"] shortcode in your page to display the list of support tickets submitted by a registered user. Logged in users will be able view tickets submitted by them and add reply to the tickets.( "title" is optional ).
Use this [create_support title="Create Ticket"] shortcode in your page to display support ticket form ( "title" is optional ).
Use this [ticket_list_all title="Support Tickets"] shortcode in your page to display the list of all support tickets submitted by users. This will allow visitors of the site to view tickets and replies. ( "title" is optional ).
Use Support Ticket List Widget to list recent/ specific tickets in the widget area. This will allow other users of the site to view specific (The tickets that you choose to be displayed in the widget) tickets with replies but only the Author of the ticket can Add/ Submit a reply.
Use Create Support Ticket Widget to display new support ticket form in the widget area of your site.
Create Custom Fields in the Support Ticket Form.
Multiple Files can be uploaded in Ticket & Ticket Reply form. Allow only Specific file types to be uploaded.
AP Email Template Add-on ( FREE )
This is an Email Template addon plugin for PRO plugins available at aviplugins.com. This will allow you to customize Email Template easily, make your emails look more professional. This Add-on is FREE to download. Once you purchase WP Support (PRO) you will get a plugin KEY. Please use that KEY to download this Add-on.
Usage
The settings for the plugin is very simple. Choose a name for Admin when reply is posted from admin panel this name will be used (Optional). Select supported file types for Attachments. Only supported file types will be allowed to be uploaded at the time of posting a Reply or creating a Ticket.
Admin Panel Dashboard Widget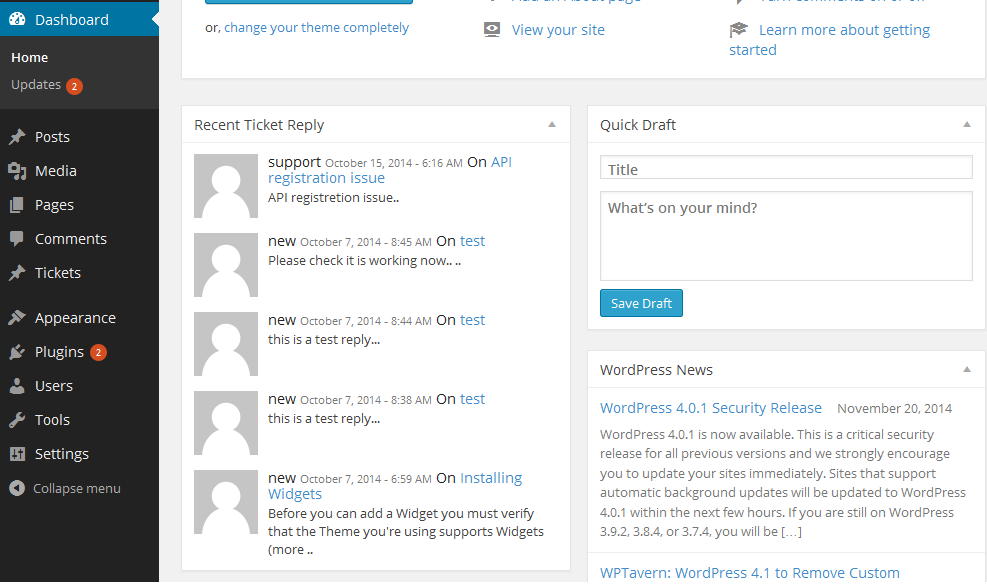 The recent messages will be displayed in the wordpress dashboard. From here you can directly go to the ticket page to post a reply.
Admin can post a reply to the ticket from admin panel.
General Settings

Custom Form Fields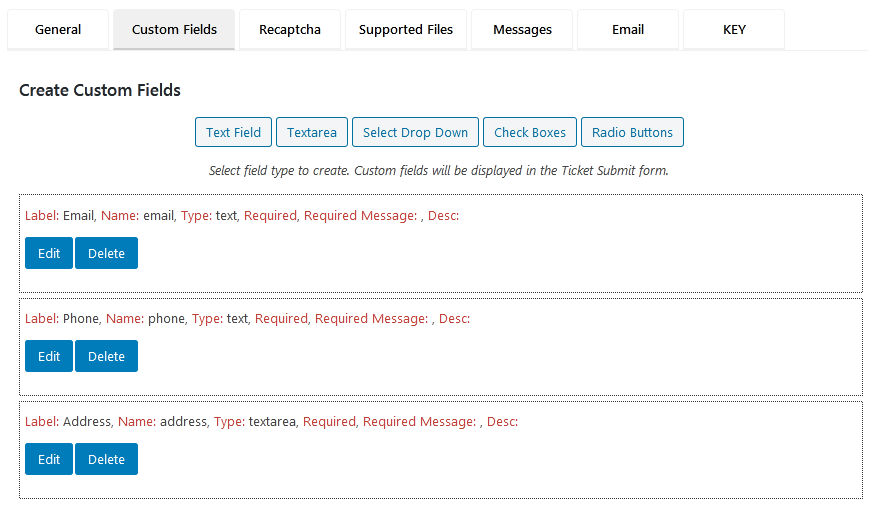 Create custom fields for Tickets. Build your Ticket create form as per your requirements. Form fields are sortable by Drag & Drop.
Google reCAPTCHA Setup

Create custom fields for Ticket Submit Form. Build your Ticket Submit form as per your requirements.
Supported Files to be Uploaded

Settings page view 1. Here admin can select the allowed file types that can be uploaded while posting a reply. If no file type is selected then file attachment will be disabled.
Messages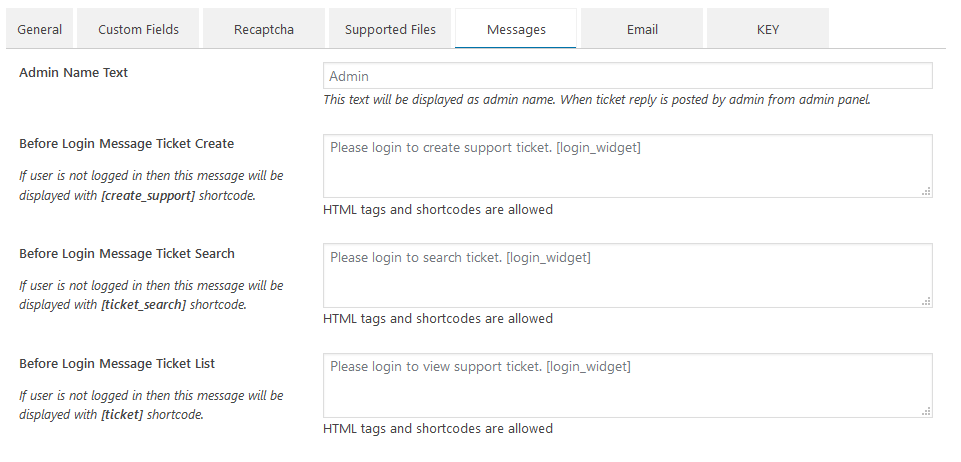 Email Settings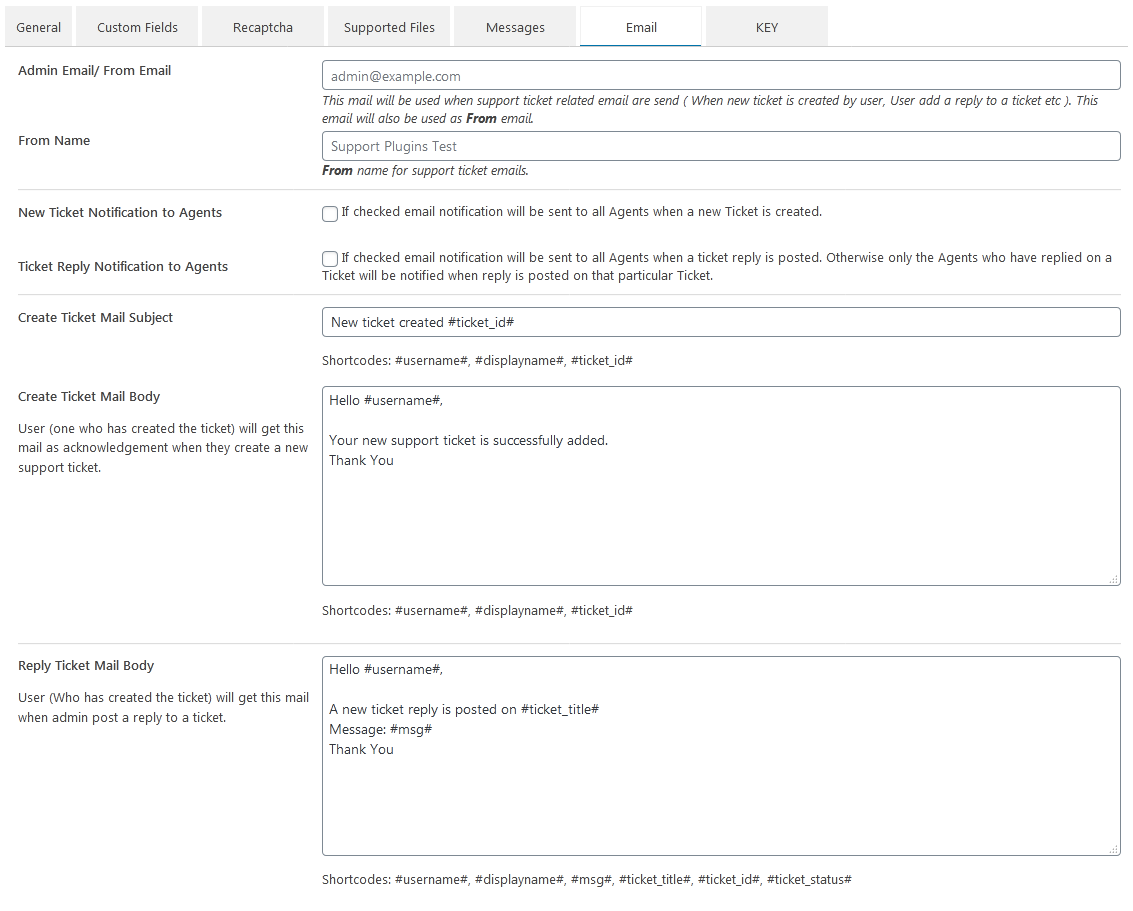 Support ticket emails can be configured from here.
Plugin Key
Each plugin comes with an unique key. This key ensures that your plugin has a valid license. Plugin key can be used to get informations about the latest version available to download. Key has to be entered in the plugin settings section.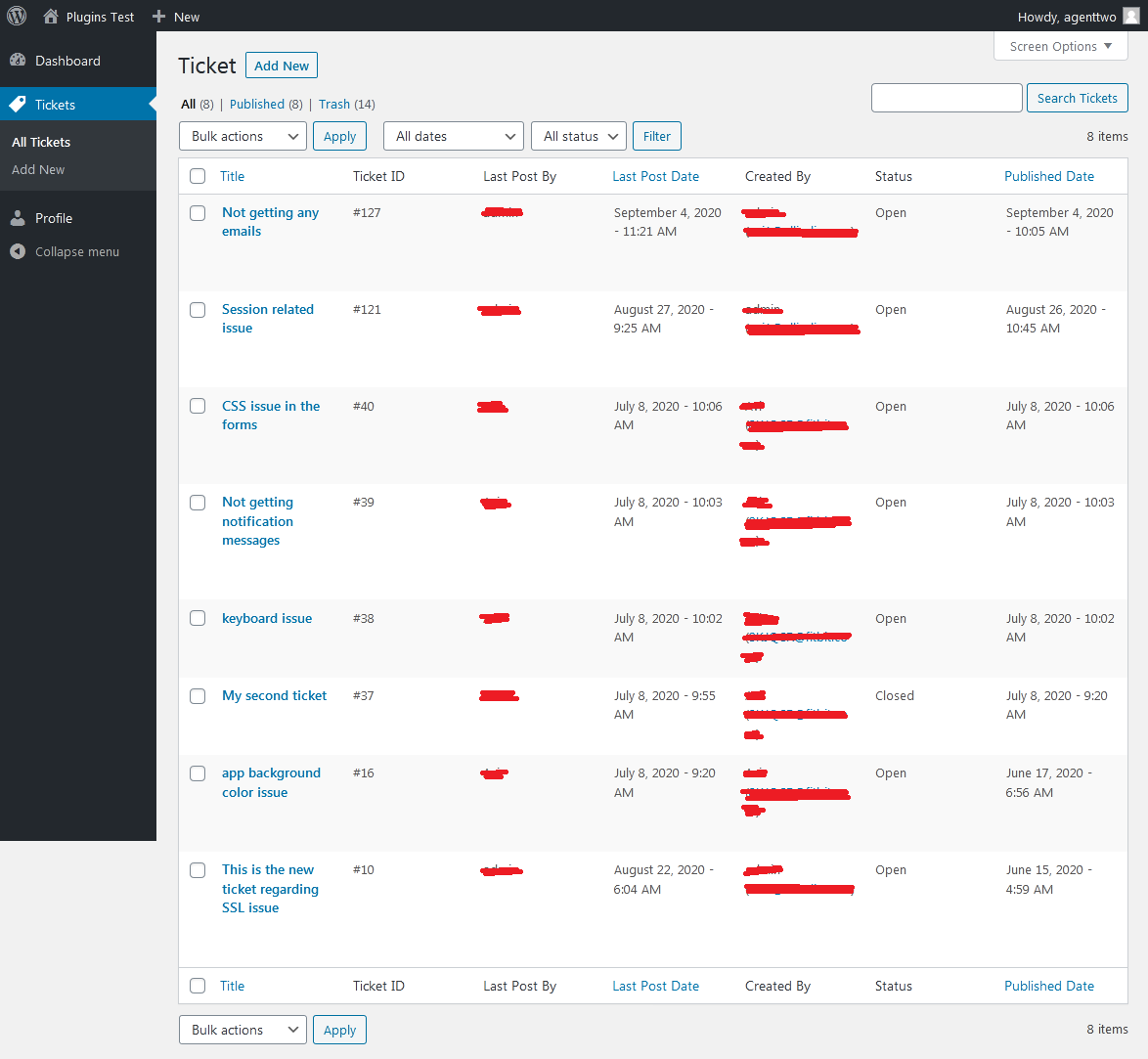 Admin panel view of support Agents. Agents will have limited access to admin panel.
Note *
Administrators can post replies by logging in to admin panel. Additionally a new user role Agent will be created with the plugin. Administraton can assign this role to the support agents so that they can login to the admin panel and reply to the support tickets. Agents will have limited access to the admin panel they can access to ticket section only.
Multilingual Note *
WP Support (PRO) is a multilingual plugin. To use this plugin in your native language you have to translate the plugin text in your language. Please click here for a sample wp-support-ticket-da_DK.po Danish language file. Once the translation is done please mail the translated file to [email protected] and we will convert that file and mail you back with the translated .MO file, which you have to put in the languages directory inside the plugin.
License and Agreement
Please read the plugin license